Greetings again, my readers.
now, since I can't paint or hack at minis, Im limited to taking pix.
Ive got this minor handicap thing going on...
surgery to repair major carpal tunnel imflammation.
trust me, no fun. and medications make me loopy.
Since im on this Shapeways kick recently.. I also bought some "Armored Carrier" APCs from "Ancient Angel".
I can't RAVE about these enough.
I like these better than the official Heavy tracked APCs from IWM: plus, they're a wee bit cheaper.
all of these SW-made APCs haave painted uup nicely: there is my company...
and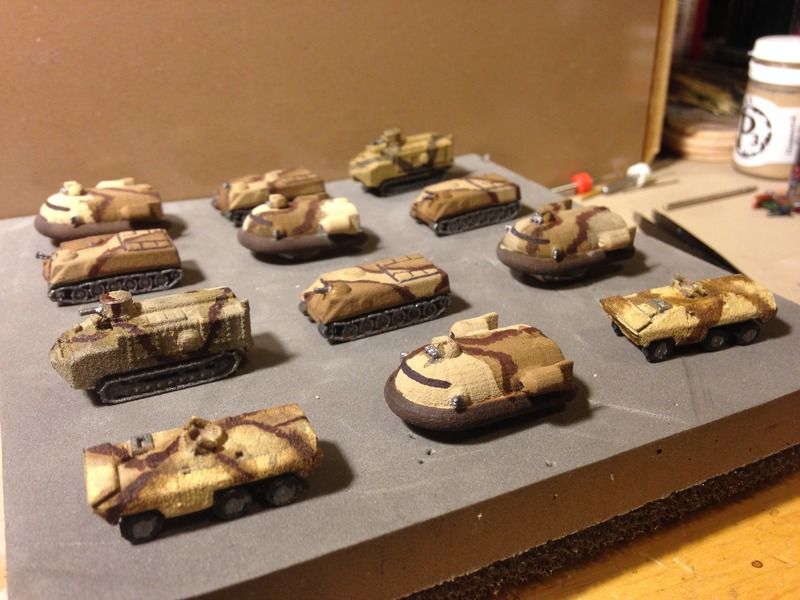 I've also picked out the "Junk Truck" halftracks from SW.
I was hoping to use these as APCs, bt theya bit too small.. but make for great Mechanized infantry.
Here they are WiP to be a regimental HQ company: infantry from MWDA, my scratch built HQ radio/comms and haf tracks by SW.
that is all I got for today.
the hand is calling for pain meds,
and the meds will call me to bed.
Y'all stay safe out there.
and paint something, already.
-Ronin OUT-